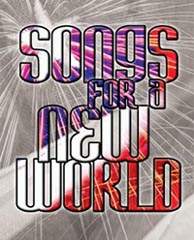 Camilla performed in Songs for a New World at the Edinburgh Fringe Festival 2003.
Music & Lyrics by Jason Robert Brown, original orchestration by Brian Besterman and Jason Robert Brown. The show was directed by Yael Lackmaker and Simon Sharp, designed by Ben M Rogers, choreographed by Vikki Coote and produced by Louder than words Ltd.
In a new production, this oustandings and lyricl musical by Tony award-winner Jason Robert Brown features a leading West End cast and live band. Songs for a New World is an intimate, stylish and witty series of personal portraits, taking you on a journey through the anxieties of the American psyche.
CAST

From the left:
Carmen Cusack (Woman 1)
Peter Eldridge (Man 1)
Vicki Kruger (Woman 2)
Andy Mace (Man 2)
John Cusworth (Man 3)
Camilla Bard (Woman 3)
"Anyone interestedin glimpsing the future of musical theatre would do well to cath this ne review, a gathering of the music and lyrics of Jason Robert Brown." The Hollywood Reporter