Camilla made her West End debut in the London version of Notre-Dame de Paris.
This musical has taken Europe and Canada by storm since 1998. It's composed by Richard Cocciante, written by Luc Plamondon and translated by Will Jennings. The show was directed by Gilles Maheu, choreographed by Martino Müller and produced in London by Michael White.
Camilla appeared at the Dominion Theatre from the first shows in May 2000 until the final performance on 6th October 2001.
She began as being Tina Arena's standby to play Esmeralda, and gradually became the principal Esmeralda plus understudied the role of Fleur-de-Lys.

Notre-Dame de Paris is based on Victor Hugo's novel "The Hunchback of Notre-Dame". It's the story of the hunchback Quasimodo and his tragic love for the gypsy Esmeralda.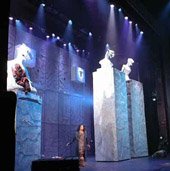 Quasimodo, watching the world from the spires of Notre-Dame, has fallen in love with Esmeralda, who sings and dances in the square in front of the great cathedral. But Esmeralda loves Phoebus, the handsome captain of the King's cavalry. Phoebus is engaged to Fleur-de-Lys, a young wealthy socialite, but is soon captivated by the exotic sensuality of the gypsy girl.
Adding to this complicated emotional web is the lust Esmeralda inspires in the
priest, Frollo. It is Frollo who enslaved Quasimodo and kept him in the cathedral. The priest's repressed carnal desires and jealousy lead him to stab Phoebus in order to get rid of his rival.
Esmeralda herself is falsely accused of the attempted murder and flung in jail. Frollo takes advantage of Esmeralda's plight and offers her freedom in return for sexual favours. She refuses and, enraged, he plots his revenge.
Quasimodo frees Esmeralda and hides her in his realm, the belfry of Notre-Dame.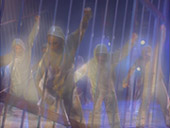 But Clopin, the leader of the refugees, and his people, misunderstand Quasimodo's intentions and storm the cathedral to save the gypsy dancer. In the chaos, Phoebus and his soldiers intervene to quell the riot and Clopin is killed.
Thinking that the captain will save Esmeralda, Quasimodo allows Frollo to hand his love over to Phoebus. But, in fact, Phoebus has every intention of seeing Esmeralda hang. In his rage, Quasimodo throws Frollo from the Belfry and sets out to save Esmeralda once again. He is too late. Consumed with grief, the hunchback takes Esmeralda to Paris' mass grave, where he dies at her side.
ESMERALDA
She is a young Andalusian Bohemian aged 16. Esmeralda carries an amulet around her neck with a little pouch, which she uses to find her mother and is always accompanied by her little goat Djali.
Esmeralda is in love with Phoebus but is married to Gringoire to save his life. She is loved by Quasimodo, and the archdeacon Claude Frollo, whom she hates.
Live
For the one I love
Love
As no one has loved
Give
Asking nothing in return
I was totally blown away by how good Camilla was. She's absolutely amazing: her acting is a joy and she has a powerful and emotive voice. "Live for the one I love" brought tears to my eyes, I was genuinely moved. She'll be an undoubted star! - Stuart

Her voice and looks fit Esmeralda's character perfectly, I loved her singing but what mostly caught my attention was her acting and the way she plays the character. Camilla's combination of singing and acting is the best in my opinion. - Vicky

Camilla is absolutely fantastic, probably one of the best Esmerelda's I've seen. Her voice is excellent, her acting brilliant. Her emotion in various scenes was excellently portrayed, particularly her cry of anguish at the death of Clopin which I've never seen anyone else do before. - Steve
FLEUR-DE-LYS

She is a young bourgeois lady, promised to Phoebus. Fleur-de-Lys is very jealous of his fascination for Esmeralda.

So look no more for love
Love is you
Love's all I am made of
Oh so true
The sun will shine above on our love
The day I marry you
She's the best Fleur-de-Lys I've ever seen! I was amazed by her acting. Sometimes soft, sometimes really bad towards Phoebus. She acts so well, even when she's not singing: during Phoebus' lines in "Belle" ie. PERFECT. Camilla, you're a star! - Vanessa

She plays the role beautifully and has a lovely voice. - Steve